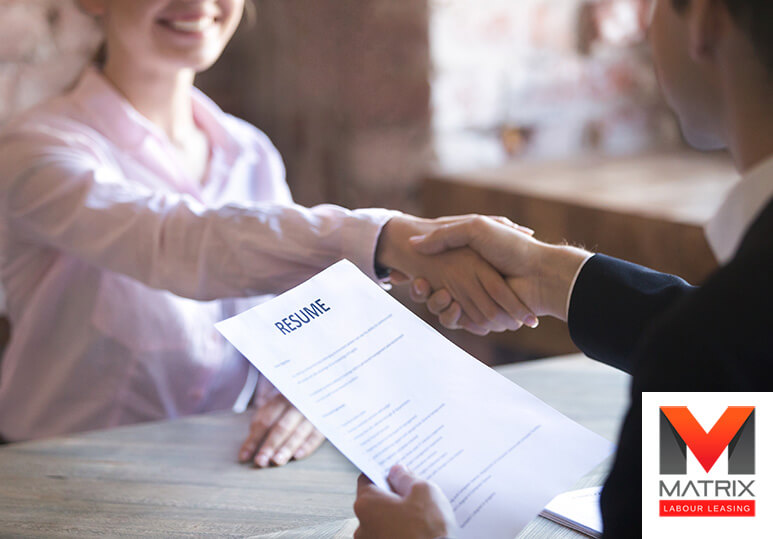 So you have decided to join a temp agency to make your construction job search in Calgary easier? Excellent choice. Temp agencies have traditionally enjoyed a strong partnership with construction companies in the region. They are often the first to be called upon when these construction companies are looking for new pairs of hands to advance their projects.
Not all temp agencies are the same. Certain staffing agencies may specialize in placing newcomers to the sector whereas others prefer to work with more seasoned candidates. Organizations may also vary in the on-the-job training they offer.
Make sure you are teaming up with a temp agency that reflects your needs and values.
Matrix Labour Leasing has more than 18 years of experience securing lucrative construction jobs in Calgary for both newcomers and experienced workers alike. Whether you want to kickstart your construction career in Calgary or take it to new heights, Matrix Labour Leasing is the partner for you.
What Are You Looking For In A Calgary Temp Agency?
Partnering with the right temp agency can be more important than you think. A temp agency that understands your needs and values can find more jobs that are a good fit for you. Fit is extremely relevant, as it is the main factor that determines how much you enjoy your new job and what you will get out of it.
Research the temp agencies' background and mission statement before committing to one. Here are some factors that may help you make a decision:
Culture: Finding a temp agency is a lot like finding a company to work for. This is especially true as the temp agency is often your employer一not the company you are doing work for. To get the most out of your experience, you want to be with a temp agency that makes you feel comfortable.
Knowing what you are looking for can help you make a decision based on the temp agency's culture. If you are looking to do construction work as a side gig, search for an organization that prioritizes placement volumes over job compatibility. Conversely, if you plan to start a career in the construction sector, you may want to join a temp agency that values building trust between its placements and its client companies.
Benefits: Given that temp agencies are increasingly acting like employers, they are also beginning to offer employment perks such as health care and paid vacation days. However, temp agencies that offer generous benefits do tend to pay a little bit less. Be aware of this tradeoff when looking for a temp agency to join.
Opportunity to learn: If you have no prior experience in the construction sector and plan to forge a career in it, be sure to partner with a temp agency with close ties with construction companies willing to train newcomers from scratch. Many such companies uniquely source their high-potential recruits from temp agencies.
Safety: Construction work can be a bit more hazardous than your average office job. As such, you may want to consider the temp agency's position on safety training during your search. Candidates big on safety should prioritize temp agencies that offer safety training as part of their recruiting processes.
Specialization: Are you committed to finding the best construction job for your skillset or are you open to other temp employment in other sectors? If your goal is the former, choosing a regional, the more specialized temp agency is probably the better idea. However, if you are considering temp jobs from multiple sectors, feel free to go with a temp agency with a national reach.
Choosing A Temp Agency That Fits Your Needs
The best temp agency depends on where you sit. Most temp agencies have their unique selling points, which may or may not appeal to you. Understand what you are looking for on the construction job market and associate with the temp agency that can offer that to you.
How much do you care about benefits? Are you willing to start from zero? What about safety training? If you are unsure about a temp agency's stance on these questions, you can always book an appointment with its recruiters.
Matrix Labour Leasing is a regional temp and staffing agency that specializes in matching both newcomers and experienced candidates with construction jobs in Calgary and Western Canada. Learn more about what makes us special from other temp agencies by calling us at 1-866-666-9520 or filling out the online contact form.
FAQs
Q: How can Matrix Labour Leasing help find me a job in the construction sector?
A: Matrix Labour Leasing is in constant contact with contracting companies looking for temp-to-hire and direct-hire workers. Depending on the nature of the role, we can either recommend you to one of our contracting companies or offer you a temporary contract ourselves.
Q: Is the contracting company involved in the hiring process of temporary workers?
A: No. The contracting company usually fully delegates the hiring process to the temp agency. The agency will unilaterally screen, interview, and select the workers that will be working for the contracting company.
Q: Where can I find construction jobs in Canada?
A: You can begin your job search at our in-house job board.