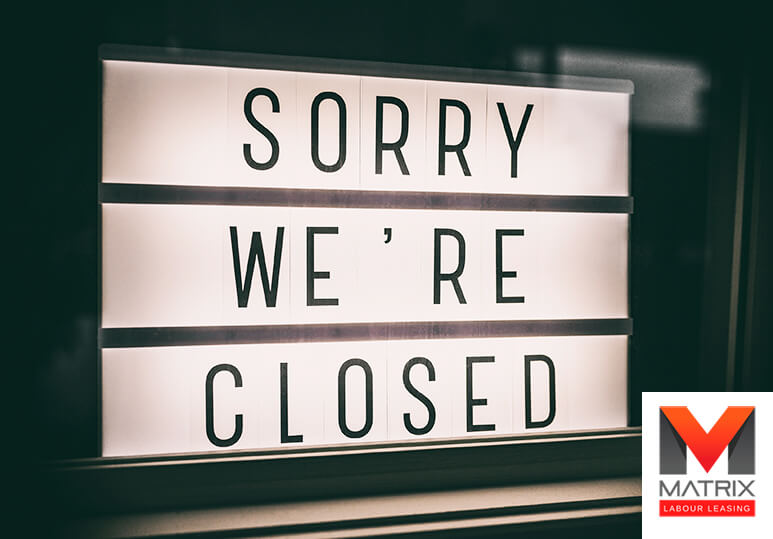 As the COVID-19 pandemic continues to rage on, many companies are finding themselves short-staffed, leading to reduced hours or even complete shut downs. This affects many Canadian businesses owners who can't hire staff as fast as they depart, either for temporary sick leave or permanently. Staffing agencies can help businesses find labour placement within their company and can offer other advantages, such as payroll services, to alleviate the burden COVID has placed on your business and the high demands that are now being placed on your workers. For those who are experiencing staffing shortages or fear they soon will be, here is why staffing shortages are abundant and how a recruitment agency can help combat them.
How Matrix Can Help Business Suffering Due To Labour Shortages
Why Are Businesses Short On Staff?
COVID. The worker shortage is being caused by various side effects of the COVID-19 pandemic, as well as the overwhelming number of people suffering from the virus itself. Businesses where a staff member tests positive lose that staff member while they quarantine. But companies typically don't lose only one worker; the Omicron variant is so contagious that if one of your employees has it, others likely do as well. This leads to multiple people being unable to work and has caused businesses to shut their doors, even if only temporarily. Some businesses can afford this loss and reopen once the staff has recovered, but others stay closed permanently.
Child Care. Many schools have either pushed their reopening date or have reverted back to online classes for the time being. Suddenly, people are scrambling for child care, and if they cannot get it they have to stay home themselves, leaving their place of employment short-staffed.
Extra Precautions And Bereavement. Working with others constitutes risk, especially for those who are immunocompromised, have a baby at home, or care for someone who is older and more susceptible to COVID. These people may choose a loss of income if it means protecting their loved ones. Some people may want to stop working even if they are at lower risk because of bereavement or family situations brought on by losing someone to COVID.
Overworked Staff. As workers stay home for the reasons listed above, the staff who do stay on have to take on extra tasks and hours to make up for the lost workers. This can lead to overworked and burned-out staff who are more likely to quit to take care of themselves or search out a less demanding position. Those who are overworked are also more likely to get sick (with COVID or with the average cold), as stress leads to a lowered immunity.
How Can Matrix Help?
Get Qualified Candidates Faster. When your company is facing a staffing shortage that is causing you to reduce hours, lose product, or threaten to put you out of business, you need to act fast. The hiring process without a staffing company can be long and take resources that will further limit your business' ability to perform. Outsourcing to a recruitment agency for your labour staffing needs will quickly get you qualified candidates and will streamline the hiring process so your new workers can start contributing to the company as soon as they're hired.
Payroll Services. Payroll funding can allow your company to have consistent cash flow while paying your bills on time, even when your business is struggling with staffing shortages that affect your profits. Payroll outsourcing may also benefit your company at this time, as it will allow you to streamline your invoicing and collections process without having to redirect your own staffing resources away from the streams that generate cash flow or help your business grow. Outsourcing payroll services allows business owners to focus on running their business in a time of crisis instead of worrying about making payroll obligations. Making sure your remaining employees are being paid on time even when staff is low and their workload is heavier than usual is one way to make sure they feel respected and stay with the company.
Matrix Labour Leasing Can Help Your Labour Staffing Needs
As a staffing agency based out of Calgary but servicing all of Alberta, Matrix Labour Leasing has highly qualified applicants who are screened and ready for employment. By outsourcing to Matrix for all of your labour placement needs, you will be gaining a partner with over 18 years of experience and over 4,000,000 employment hours in the Canadian work force. Matrix also offers payroll services to help you save resources while knowing your payroll and funding are being expertly managed. If you're looking for staffing solutions to support your operations or prevent your business from losing valuable staff members, contact Matrix Labour Leasing at 1-866-666-9520 or fill out the online contact form.
FAQ
Q: Does Matrix Labour Leasing only specialize in construction staffing?
A: No, we also specialize in hiring candidates for hospitality positions across Canada. Matrix can help you find workers in all types of roles including roles as labourers, executives, and support.
Q: Do staffing agencies interview candidates?
A: Yes. Staffing agencies do screen candidates ahead of time for you. Only candidates who pass the initial screening will be presented to the employer. Of course, the employer can choose to participate in the screening process as well.
Q: Can outsourcing my company's hiring needs save me money?
A: Yes. By hiring professionals who have already invested in networking with quality candidates, you can save significant resources and get straight to the more qualified candidates for your roles.