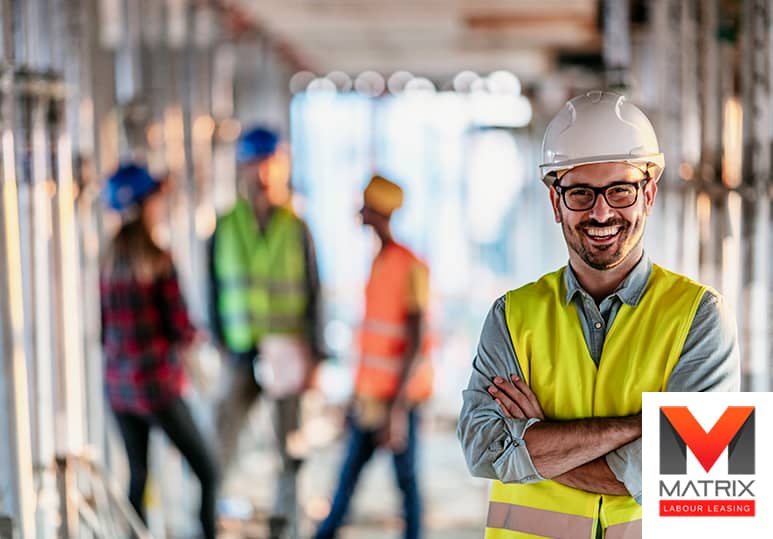 Who said that you cannot make a comfortable living working in the trades in Western Canada's construction sector? Construction jobs are not only more lucrative than you expect, but they also do not require long years of formal education. The low-investment, high-reward nature of construction jobs makes them ideal for people looking for accessible gainful employment.
To give you an idea of how rewarding construction jobs in Canada can be, we have compiled a list of 6 high-paying roles in the sector. Perhaps you will see these trades in a different light after this article.
Whether you want to transition into construction or start a construction career from scratch in Calgary, Matrix Labour Leasing is the staffing agency for you. With more than 18 years of experience and longstanding ties with some of the most prominent construction companies in Western Canada, Matrix Labour Leasing has the best chance of matching you with a fulfilling role.
Heavy-Duty Equipment Technician
These tradesmen and tradeswomen are usually one of the highest-paid workers on a construction site, bringing home an average of $80,000 after certification.
Heavy-duty equipment technicians are essentially the mechanics of a construction site; they inspect and repair all kinds of heavy machinery such as cranes, dozers, and excavators.
Given the expertise required for this role, an apprenticeship typically takes 3.5 years to complete and covers the following topics:
Occupational health and safety procedures
Engine systems
Fuel systems
Intake, exhaust, and emission control systems
Electrical systems
Industrial Electrician
Another handsomely paid specialist on the worksite is the industrial electrician, responsible for installing and maintaining the electrical fixtures and wiring of the structure being built. An industrial electrician might reach a yearly salary of $80,000.
The apprenticeship program for this position combines on-the-job and in-school training and lasts 5 years. The curriculum includes:
Creating, modifying, and interpreting schematics, drawings, and specifications
Learning electrical theory, wiring, installation methods, and instrumentation
Using and maintaining relevant tools and equipment
Learning codes, legislations, and regulations
Pipefitter
The person responsible for designing, assembling, and repairing a building's piping system can earn $74,000 after certification.
Working with pipes may seem simple, but the position requires deep knowledge of liquids and gasses, heating and cooling systems, and safety protocols. Some experience with welding and rigging is beneficial as well.
Becoming a certified pipefitter requires 5 years of training in an apprenticeship program that includes::
Reading and interpreting drawings and specifications
Analyzing and designing piping systems
Learning calculations and physics
Learning safety procedures
Sheet Metal Worker
Sheet metal workers fabricate, assemble, repair, and install all things metal-related. These include metal structures, heat and cooling ducts, and roofs. The sheet metal worker can earn $56,000 after completing a trade program.
The apprenticeship program for this role lasts 5 years and includes the following topics:
Fabricating sheet metal products
Reading, interpreting, and producing drawings
Using and maintaining relevant tools and equipment
Learning safety procedures
Welder
Welders join pieces of metal together and repair broken parts一often with the help of heavy and potentially dangerous equipment. Welders come in 3 types: arc welders, who use electricity to melt and fuse metals together; gas welders, who use heat and flame; and resistance welders, who use pressurized tools. Most welders earn around $51,000 after obtaining their certification.
Apprenticeship for a welder lasts 3 years, covering the following topics:
Laying out, cutting, and forming metals to specification
Learning welding theory
Using and maintaining relevant tools and equipment
Learning safety procedures
Construction Worker
The construction worker is a jack of all trades on the worksite. Their responsibilities include working on structures of all types, preparing and cleaning the worksite, and performing demolition and excavation.
The average salary for construction workers in Canada is $45,300, but top performers can bring home more than $65,000 per year. However, the relatively modest compensation of this generalist role in comparison to other construction jobs is offset by its accessibility. Unlike some higher-earning careers in the sector, this trade does not require any training or certification一though it is certainly preferred.
An apprenticeship for a construction worker is shorter than other field-related occupations and includes the following modules:
Handling and operating relevant equipment and tools
Reading and apply basic blueprints, drawings, and layouts
Learning safety procedures
Your Construction Career In Calgary And Beyond
A career in construction can be surprisingly rewarding. Most positions do not require advanced formal education; a few years of hands-on training is usually sufficient to make a candidate competitive for these roles. The highest-earning construction jobs rival the salaries of the cushiest office roles.
Did any of these high-paying construction jobs catch your fancy? Whichever construction job you have in mind, Matrix Labour Leasing can help you obtain it. Our staffing agency can match you with a lucrative direct-hire or temp-to-hire role in your field of specialization in Calgary or anywhere across Western Canada. Call us at 1-866-666-9520 or fill out the online contact form, and let's get to work!
FAQs
Q: How can Matrix Labour Leasing help find me a job in the construction sector?
A: Matrix Labour Leasing is in constant contact with contracting companies looking for temp-to-hire and direct-hire workers. Depending on the nature of the role, we can either recommend you to one of our contracting companies or offer you a temporary contract ourselves.
Q: Is the contracting company involved in the hiring process of temporary workers?
A: No. The contracting company usually fully delegates the hiring process to the temp agency. The agency will unilaterally screen, interview, and select the workers that will be working for the contracting company.
Q: Where can I find construction jobs in Canada ?
A: You can begin your job search at our in-house job board.