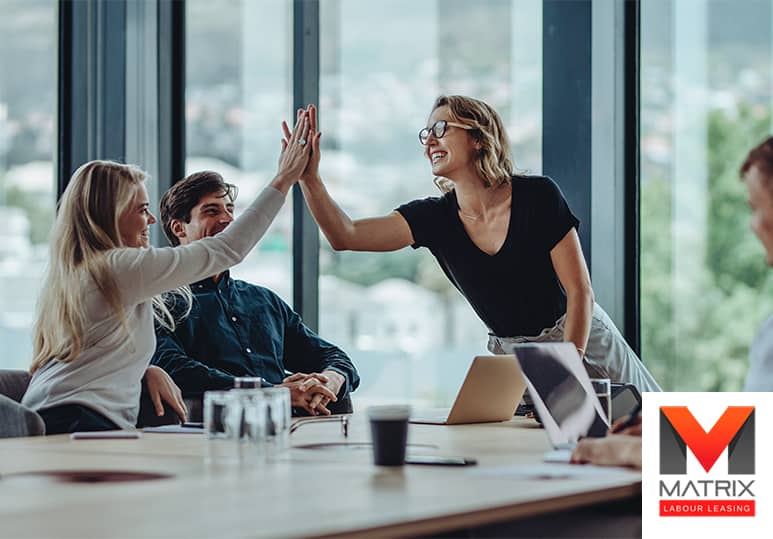 The labour shortage in North America is unprecedented not only because of the high rates of worker demand, but because many workers are now leaving their positions without having another job in place. Previous incentives for job recruitment such as job stability, pay equal to experience and training/education, and room to grow are no longer enough to interest workers in construction jobs; workers want to feel invested in what they're doing, know that their company treats workers with respect, and work for a company with strong values. Here are some expectations that employees have when they search for new construction careers and how your company can become an employer to the industry's top performers.
What Workers Want
People Are Looking For More Than A Job
Workers increasingly want to join companies that give them purpose. Employees no longer want to just work a job that pays well, they want one that also has a moral backbone and has a goal focused on the greater good instead of only profitability. This might mean using more sustainable practices, hiring more diverse workers, or using your business to further social justice causes. This sense of company values gives workers a feeling of purpose in their work that exceeds profits and instead fulfills their need to do more personally rewarding work.
Work Culture
Many employees are no longer putting up with companies that treat them like a number. We've seen the massive walkouts of minimum wage workers of fast-food franchises where workers feel they don't make enough money for the levels of disrespect and lack of compassion they face on a daily basis, and now we see those same principals moving into other fields throughout North America. Workers expect companies to treat them well and appreciate them as well as offer them opportunities to grow and connect with co-workers.
Focus On Workers' Health And Opportunities
There has been an ever-increasing focus on mental wellness in society and this focus has only increased since the start of the pandemic. Some companies even offer therapy sessions covered by company insurance as a way for workers to help cope with the stresses of the pandemic. The expectation is that companies understand that their workers may experience mental health difficulties such as burnout or pandemic-related stresses, such as isolation or the stress of illness. Even now when many restrictions are lifted, this new awareness of the importance of mental health is gaining traction in the workplace. Valuing mental health benefits the workforce and also benefits employers, as employees are happier and more productive if they feel their company cares about their wellbeing and offers resources to support their mental health.
Match Your Values To Your Treatment Of Workers
The idea of authenticity is increasingly valued; a company needs to prove that they don't just talk the talk. For example, a company that says they value gender equality in the trades while having a largely male-dominated staff or a company that has a fairly gender-equal labour staff while the executives are predominantly male is not actually showing to practice what they claim to value. This can cause resentment in workers who were promised certain working conditions or who may have wanted to align themselves with the values of a company.
How A Labour Staffing Company Can Help
To recruit more workers, you may have to make significant changes within your company or, if your company already values many of the aspects discussed, you may have to better advertise these critically important company values. A labour staffing company knows exactly what workers are looking for and can help you create company value statements, learn your company culture, and highlight your company's benefits with transparency and authenticity. Recruitment agencies can help you attract skilled workers, but they can also match your company with workers who will want to stay with the company and become a valued asset for your team for many years.
Staffing Solutions From Matrix Labour Leasing
A recruitment agency can help attract candidates who are looking for more than a construction job, but a company they can stay with and build a career with. By catering your recruitment advertising to meet the new standards of employee value propositions, labour staffing solutions can help you find qualified and dedicated workers. Matrix Labour Leasing can facilitate labour placement that will satisfy both the worker and the company by finding candidates who can integrate seamlessly for maximum employee retention. For staffing solutions across Canada, contact Matrix Labour Leasing at 1-403-201-9520 or fill in the online contact form.
FAQ
Q: Where does Matrix operate?
A: While Matrix Labour Leasing is a Calgary owned and based business, our staffing agency places workers in construction jobs all across Canada and in the US.
Q: Do staffing agencies interview candidates?
A: Yes. Staffing agencies do screen candidates ahead of time for you. Only candidates who pass the initial screening will be presented to the employer. Of course, the employer can choose to participate in the screening process as well.
Q: Can outsourcing my company's hiring needs save me money?
A: Yes. By hiring professionals who have already invested in networking with quality candidates, you can save significant resources and get straight to the more qualified candidates for your roles.