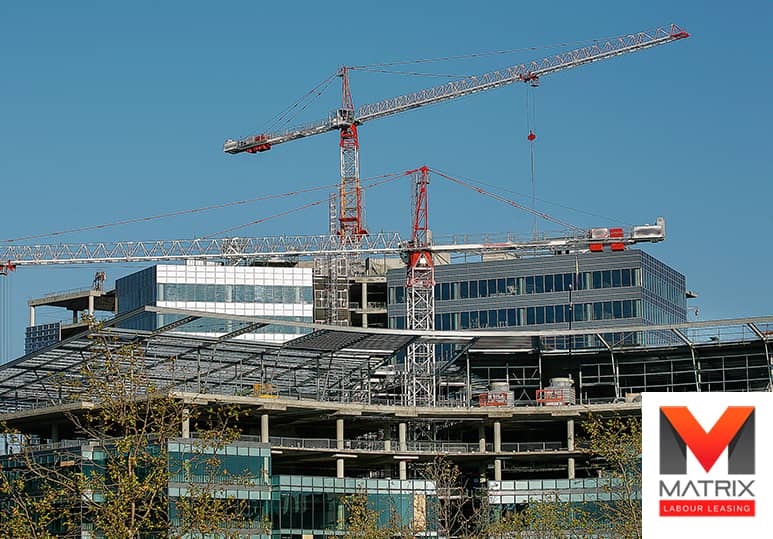 Industrial construction is any form of construction work that has to do with factories, power plants, warehouses, and other highly specialized facilities. Any factory that needs specialized design, installation, and maintenance is also considered industrial construction. There are typically two main types of buildings in industrial construction: warehouses/distribution centres and manufacturing buildings. Both of these have special requirements built into their design and are built for functionality rather than aesthetics. These buildings need to be highly durable so they can withstand the heavy equipment they will be both using and producing. Because of the nature of industrial projects, they must meet permitting requirements that comply with local, provincial, and federal building codes and require a skilled and competent team to build them.
Different Kinds Of Industrial Construction
Warehouses And Distribution Centres
Both of these facilities are used for the storage and transportation of a variety of goods. Because most warehouses and distribution centres store mass amounts of large, heavy items, they require very high ceilings while being only one story tall. Many of these types of facilities are also quite large and can be over several thousand square feet. Warehouses and distribution centres need to have plenty of stations for loading equipment and provide access to large loading trucks and other equipment.
Manufacturing Buildings
Also known as heavy industrial buildings, manufacturing buildings are used in the production of goods and materials and that need to support capital-intensive equipment for industries such as oil, mining, and shipbuilding. Because of the huge energy demands of manufacturing buildings, they need to have a three-phase electric power supply to run all necessary equipment. These buildings also need additional functional elements related to the work completed in them, such as industrial-strength air ventilation ducts to release any harmful chemicals, as well as drains on the ground and direct, pressurized air or water lines.
How Does Industrial Construction Differ From Commercial Construction?
Industrial construction is different from commercial construction from the very beginning when the location is chosen. Because of the large amount of space needed as well as the ability to accommodate certain types of vehicles (including boats for some industries), functionality and a large plot of land are of vital importance. Once the appropriate location is acquired, building design and infrastructure need to be created so that coordination is simple and products can be moved as simply and smoothly as possible. Because of the heavy-duty use of industrial construction sites, the entire facility must be structurally sound from the conception of the design to the pouring of cement to the finishing touches.
Find Construction Jobs With A Staffing Agency
If you're searching for a construction job, consider an industrial construction worksite. Because of the size and intensity of these projects, industrial construction jobs can take a while and they require experience and dedication. To find a rewarding placement with an industrial construction job, partner with a staffing agency. If you're ready to find an industrial construction job that utilizes your skills and shares your work ethic, join the Matrix Labour Leasing network. At Matrix Labour Leasing, we can match you with a lucrative and rewarding construction job in Calgary or anywhere across Canada. Call us at 1-866-666-9520 or fill out the online contact form, and let's get to work!
FAQ
Q: How can Matrix Labour Leasing help find me a job in the construction sector?
A: Matrix Labour Leasing is in constant contact with contracting companies looking for temp-to-hire and direct-hire workers. Depending on the nature of the role, we can either recommend you to one of our contracting companies or offer you a temporary contract ourselves.
Q: Do applicants have to pay the recruiting agency?
A: No, they do not. Staffing agencies are hired and paid by charging the company in which the candidate has been successfully placed, not the candidate. If a staffing agency charges the applicants a fee, they are not a trustworthy staffing agency.
Q: Where can I find construction jobs in Canada?
A: You can begin your job search at our in-house job board.